John Thompson is a fourth generation trainer but there's another reason why he gets up every morning to prepare horses to race.
"Horses are addictive," he said.
"And from day one I had an affinity with them so I've never looked back."
Thanks to patience and more listening than speaking, Thompson turned himself into one of the best trainers in the country and his journey is one that few would or could take these days.
How many budding trainers are prepared to not be the head trainer for a couple of decades before asserting control of a stable?
It feels like Thompson has been around forever but he's only been a trainer since 2009.
"It's always daunting when you go out to do it on your own but I had a good grounding, being a foreman for 20 years with my dad (Vic) when he won a premiership and with Bart Cummings," Thompson said.
"Both had a lot of success when I was there so you know what to do but, still, when you're doing it on your own, there's added pressure.
"The younger generation probably don't want to work as hard and they want it all a bit quicker and easier."
GET YOUR FIRST MONTH OF RACENET IQ TODAY FOR ONLY $4.99!
It's well know that Thompson's big break into training came when mining magnate and horse owner Nathan Tinkler was looking for a private trainer.
Bart's are Anthony recommended Thompson to Tinkler.
"The offer was too good to refuse and when I sat down with Bart he said the same thing," Thompson said.
Being Patinack Farm's head trainer brought immediate success and the experience is still helping Thompson to this day, particularly when he wants to aim horses at interstate races.
"It (Patinack Farm) was good to start with because there were a lot of good horses to train and it was a good learning curve for me because I got to train out of a lot of stables. I had five stables in four states," Thompson said.
"I've ticked all the boxes when it comes to training in that sense.
"It was bloody hard work but we had a lot of winners and it was a great time and I won Group 1s in just about every state which is hard to do.
"I've only got the one stable now but when I do travel horses I know where to go and what to do because I've been there before."
John Thompson was head trainer for Nathan Tinkler's Patinack Farm.
Asked if he would ever consider being a private trainer again, Thompson replied: "It would depend on the scenario."
Thompson's first Group 1 winner was with Small Minds in the 2010 Australasian Oaks and since then he's always had a good horse in the stable
"I'd say First Seal was my best but I still have a huge respect for Nechita who only had four starts and she would've won more Group 1s had Coolmore not bought her and sent her up to Ireland," he said.
"She was a brilliant sprinter."
First Seal was beating up a filly called Winx not long ago and the two took very different pathways, not that Thompson was bitter about it.
"Winx just went to a whole new level and mine didn't and that's racing and horses," he said.
"First Seal just wasn't the same three-year-old in the autumn as she was in the spring and she had to have an operation on her foot and she wasn't the same horse after that."
Dreamforce was the toughest horse Thompson has ever trained and if his horses heading to Rosehill on Saturday can be half as gritty he might have a day out.
There probably won't be a more relieved or satisfied person in the country at 4.50pm on Saturday if Mamaragan can win the last.
The four-year-old hasn't won since debut because he's been plagued by the thumps for a few seasons.
"It's a day to day thing. If he doesn't get it he'll run well if he does get it he won't," Thompson said.
He's rated a $12 chance to win based on his recent form around Dragonstone, Hulk and Waihaha Falls.
"He's an on-pace horse but he just softened up in front when something took him on last start," Thompson said.
"The winner (Waihaha Falls) was dominant but if he wasn't taken on early he probably holds on for a second.
"He's still got ability so don't be surprised if he comes out and wins. He's run well a few times this prep and when it all falls into place he he'll win.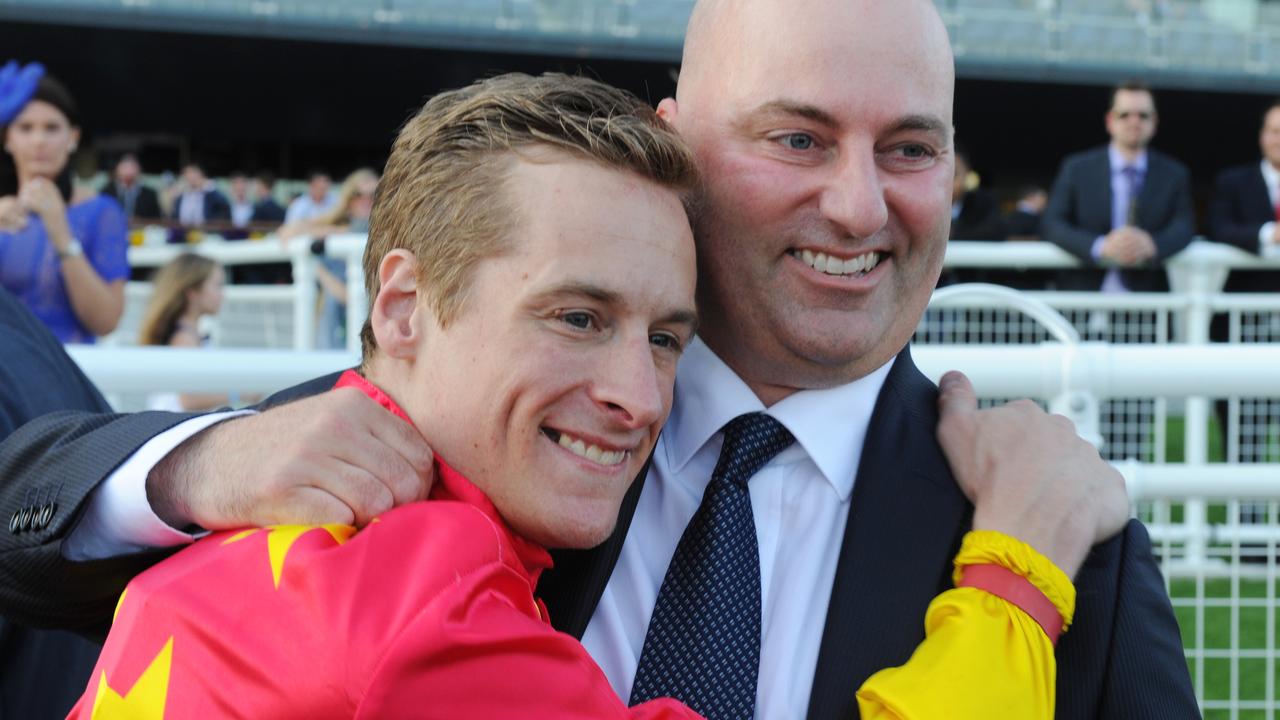 John Thompson celebrates with jockey Blake Shinn after First Seal won the Flight Stakes in 2014. Picture: AAP
Bartoselli kicks off the day for Thompson in the third race where he's a $5 favorite.
"He trialled well on the bit on a wet track then when he went to Canterbury over 1100m he was just off the bridle on a very heavy track and he didn't like that and he gave up," Thompson said.
"At his next start at Rosehill I said to Reece Jones 'I don't care where you are in the race just make sure he's on the bit and traveling and help him through it' which he did and he ran super.
"I knew he was going well, it was just a matter of ticking that wet track box.
"The key is he's got to be traveling and if he is he'll get through it. If he's off the bit he loses confidence.
Jojo Was A Man is Thompson's best of the day in the Winter Challenge while Elusive Jewel runs as a $7 chance in a very open fourth race over 1800m which is a more suitable trip.
"She is against fillies and mares and she's going super," Thompson said.
"She had a little freshen up after Queensland which was a bit far for her, distance-wise, but a freshen up and coming back in trip is perfect for her.
"She's very consistent and Brenton Avdulla is back on and he said she's right after galloping her on Tuesday."
Like all trainers, Thompson is looking for his champion.
He's worked with a few but not as a head trainer.
"I wish I was at Bart's a bit earlier when he had Saintly and Beau Zam. I was always a Bart fan growing up," Thompson said.
"My older brother always told me I thought I was Bart Cummings and I had to pinch myself when I was sitting on the other side of his desk going through the work sheet with him. It was amazing.
"I went to Bart's thinking he was a famous celebrity who liked the attention but he was the opposite.
"He shunned the spotlight and he didn't like being famous. I liked sitting in a quiet corner."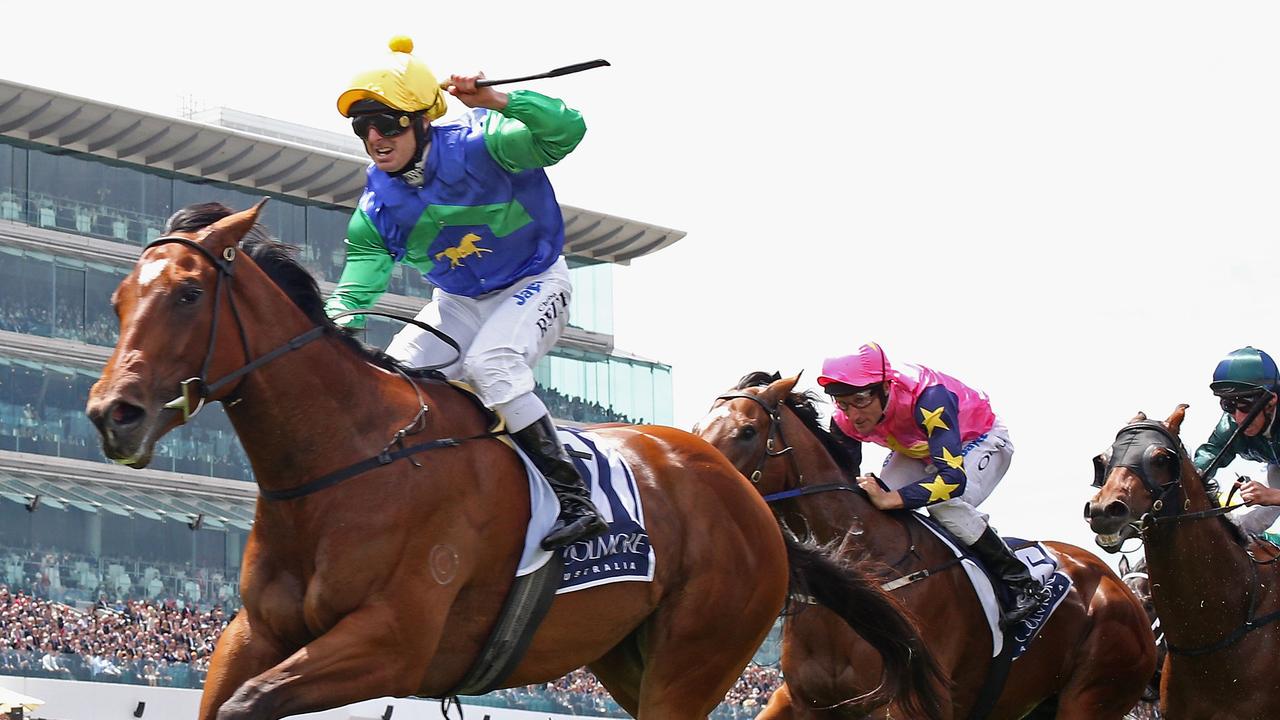 Nechita won the Group 1 Coolmore Stud Stakes in 2012.
Where trainers get an edge on their rivals is being innovative and ahead of their time.
While there were many reasons why Bart Cummings and Tommy Smith were the two most successful trainers in Australian history, Thompson explained how a simple practice gave them their edge.
"Bart and TJ Smith trained completely differently but the one thing they did do extremely similar is feed," Thompson said.
"The revolution of Bart and TJ was in their feeding. They were the first trainers to start feeding racehorses a high protein feed and that was the secret to their continued success.
"Now we're all educated in that but in that era most trainers were not educated in that area.
"They fed their horses a lot of corn and oats and today we know that is energy. They were ahead of their time."
The hard part is to be an innovator.
"It's hard to say where training will go," Thompson said.
One thing that is exciting Thompson heading into next season is a fresh stable full of horses, hopefully with a Group 1 winner in there somewhere.
"My better horses, Dreamforce and Sweet Deal, retired last year so I'm going through a rebuilding stage to find those sort of horses again," Thompson said.
"I've had too many placings this season. It's been a frustrating year with a lot of seconds. If I turned just half a dozen of them into winners I would've had a very good season."
There's still one meeting to go before August 1.